Jan, 11, 2018
Comments Off

on What is a Universal Certificate?
If you've ever looked around for a qualified Energy Assessor, you've probably run across the term "Universal Certificate", especially in regards to Residential assessments. So what exactly is this fancy certificate & why is it so important to have one?
The NatHERS Universal Certificate is a standardised report created through NatHERS home energy rating software. Its purpose is to verify the energy efficiency or thermal comfort of a Residential building by providing some of the details of the building in an easy to read, consistent format.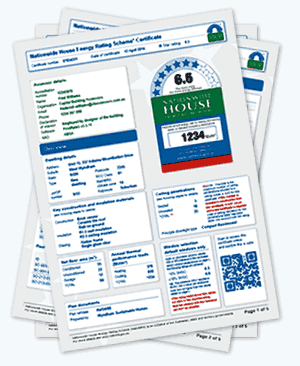 The Universal Certificate ensures consistency in these main areas:
Energy Efficiency certification
Purchase of building materials
Building construction
Inspection of the final building by the Building Surveyor or Building Certifier
The Universal Certificate lists of all the different elements that make up a building in a standard format. As you can see in the sample reports below, this includes the roof, ceiling, external walls, glazing and floor. The Universal Certificate details both the specifications that were used in the Energy Efficiency Assessment & the Assessment's results.
As a result of the standard format, the construction industry knows exactly what was designed, simulated & certified. Meaning, the building that is built is the same as what was assessed & that it meets the Energy Efficiency requirements. Energy Assessors who use the NatHERS software for Building Regulation produce complying Universal Certificates as part of the NatHERS software's user licence agreement.
I have a black & white Universal Certificate. Is it the same thing as a colour one?
Good question! There are two different types of Universal Certificates: a black & white version, these ones can be produced by unaccredited assessors, or in other words anyone, whether or not they have any qualifications. The full colour version with the NatHERS logo can only be created by an accredited assessor using approved software. Because using an unaccredited assessor can put the building, your reputation and your business at risk, we always recommend you use an Accredited Assessor – it's the safer & smarter choice.
Accredited Assessors have a Certificate IV NatHERS Assessment qualification from a Registered Training Organisation
Accredited Assessors are required to stay current with their industry and thermal modelling skills through compulsory Continuing Professional Development (CPD)
Accredited Assessors receive regular updates through newsletters, seminars, workshops and member meetings
Accredited Assessors participate in regular Quality Assurance audits
Accredited Assessors have Professional Indemnity Insurance
Finally, in NSW, accredited assessors are required by BASIX when calculating Thermal Comfort by Simulation Method.
What if I don't have a Universal Certificate?
If your Assessor did not supply a Universal Certificate with their report, you ought to ask them where it is. Without a Universal Certificate, it's much harder (bordering on impractical) to know that the building that is built is the exact same design that was certified for Energy Efficiency compliance.
They're so useful, most builders & certifiers consider them standard required documentation – and a construction project that doesn't have all of its standard documentation is bound to have issues.
Without a Universal Certificate, it's easy to just say that whatever numbers that are required match what's supplied & installed, without proof. The miscalculations might not even be intentional – human error happens to even the best of us. However, a Universal Certificate will quickly highlight any mistakes, which your material suppliers & Certifier should pick up on.
At the end of the day, the Universal Certificate is a super handy thing that makes life easier for everyone.
Anderson Energy Efficiency always recommends that you ask for the Universal Certificate to minimise uncertainty and incorrect substitution of building materials. Every single one of our Residential assessments uses NatHERS software & includes a Universal Certificate via the QR Code. Because your project deserves the best guarantee of a quality available.
If you're in the market for a Residential Energy Assessment or even if you just have some questions you need answered, give us a call or email for a prompt answer to any of your questions & a competitive, obligation-free fee proposal.
---