Jun, 15, 2014
Comments Off

on NCC2014 Energy Efficiency Summary
Once again, it's time for the annual update to the National Construction Code (NCC)! What's changed in 2014? Here's a handy list.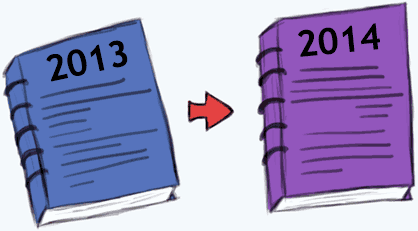 Changes for Volume 1 (Classes 2-9, Commercial buildings) Section J
One of the major changes is the increased energy index values for glazing in Class 9c aged care buildings. The insertion of shading multipliers for glazing in internal fabric is another change for glazing calculation of all classes of buildings. The new glazing calculator 2014 needs to be used for glazing calculation of Class 9c aged care buildings and internal fabric of all building classes. This is reflected in Section J2.4 (a), Section J2.4 (d), Table J2.4a and Table J2.4e.
The wording has changed in Section J0.1 (d) and Section JV3(d)(i)(E), to refer to any 'heated water' supply in swimming pools and spas instead of 'hot water'. Heated water in pools and spas now needs to meet the same requirements as hot water.
Table 2j has been added to Specification JV, Part 2(a) (iii) which clarifies the internal heat gains from occupants and hot meals. This means that for eating areas in restaurants or cafes, the internal heat growth per person accounts for heat gained from both occupants and hot meals.
A new table for calculating façades with with glazing has been added to Specification J1.5 Figure 2(i).
The Table in part J2.4a has been amended to include increased energy index values for glazing in class 9c Aged care buildings. This change reflects that aged care buildings now have a higher glazing allowance.
Section J6.2(a) Artificial lighting, has been reworded to clarify how lamp power density and illumination power density are used in a sole occupancy unit in a Class 2 or Class 4 building. This is 5W/m2 within a unit and 4W/m2 on a verandah or balcony attached to a sole occupancy unit.
Section J7.2 Heated water supply, has been rewritten. Parts relating heated water supplies for food preparation and sanitary purposes have now been removed from this section & relocated to NCC2014 Volume Three Part B2 Plumbing Code of Australia.
Section J8.2 Access for maintenance has been revised to list the requirements for compliance due to the removal of Section I. Access must be provided to all plant, equipment and components of services that rely on maintenance to continue to function.
Changes for Volume 2 (Class 1, Residential buildings) Part 2.6
The content of V2.6.3 regarding the verification of heated water supply systems, has also been moved to Part B2 of NCC 2014 Volume Three.
In summary, only minor changes will be needed for most building projects. However, a major change in Energy Efficiency for 2015 has been foreshadowed, including stricter regulations for Retail (Class 6) shop or showroom display glazing, which currently has a concession compared to other Building Classes. Next year is bound to be interesting for the industry! If you are interested in a Deemed-To-Satisfy, Thermal Calculation, Verification Method or Reference Building assessment for your new building, contact us for a competitive fee proposal. We deal in both Residential and Commercial work throughout Australia, from tiny 1-room house extensions to entire shopping complexes.
---