Jun, 15, 2013
Comments Off

on NCC2013 Energy Efficiency Summary
One more year, one more set of changes to the National Construction Code (NCC)! So what's new this time with regards to Energy Efficiency? Well, let's find out.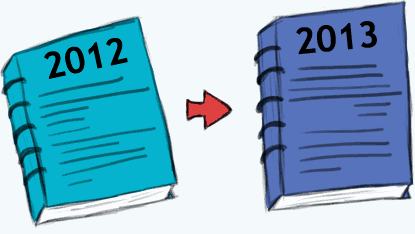 Changes for Volume 1 (classes 2-9, Commercial buildings) Section J
One of the largest changes is the handling of Class 7, 8 & 9b buildings as well as atriums & solariums. These now included and are required to be energy efficient, and this is reflected in sections J1.1 Building Fabric Application of Part, J2.1 Glazing Application of Part and J3.1 Building Sealing Application of Part.
In table J1.5b, Walls, a clarification note has been added. As a consequence of this, envelope walls will need insulation if the adjacent enclosed non-conditioned space needs roof lights. Additionally, the adjacent enclosed non-conditioned space needs insulation if there is more than 1.5 air changes per hour during occupied hours, not averaged over the entire day.
In section J2.4(a)(iii), Glazing, Glazing in the internal fabric with a shading P/H less than 2 must be assessed.
In table J5.2, Maximum Fan Motor Power, the maximum fan motor power limits have been increased in all areas to align with the redefinition of "fan motor power".
In section J5.2(b)(iii)(A), the maximum fan motor power limits for non air-conditioning mechanical ventilation systems larger than 1000L/s have also been increased to align with the redefinition of "fan motor power".
In section J5.4(b)(ii)(H), Heating and cooling systems, this section has been reorganised so that complying electric heaters are allowed as part of a combination of systems.
In section J5.4(b)(iii), electric heaters less than 1.2kW are now allowed in the bathrooms of Class 3 or Class 9c aged care buildings.
In specification J1.6 Figure 2, Floor Construction, standard insulation values for 100mm and 150mm concrete slab on ground have been added to the table.
Changes for Volume 2 (class 1, Residential buildings) Part 2.6
Aside from small formatting alterations, there are no major changes to this section this year.
Changes for Volume 2 (class 1, Residential buildings) Part 3.12
In South Australia, sunrooms are now considered to be an attached Class 10a building and need to comply with the relevant code requirements.
An explanatory box has been added which clarifies the code's definition of illumination power density plus lamp power density and the differences between these two numbers.
In section 3.12.0.1(a), Heating and Cooling loads, South Australia's Star Rating requirements have been relaxed from 6 stars to 5 stars for elevated lightweight-floor houses that are less than 60m², located in climate zone 4 (inland Northern
SA), or are located in certain local government areas.
Also in section 3.12.0.1, an explanatory information has been added about regards to Outdoor Living Areas with columns, balustrades and other obstacles that impede the breeze path. They are are now allowed if they don't represent a large impact to the breeze path, or if the outdoor living area's size is increased. However, no specific numbers are listed in the code so this is up to the certifier's discretion.
In section 3.12.1.5(c), Floors, in climate zone 8, concrete slab-on-ground flooring now requires slab edge insulation of at least R1.0.
In section 3.12.5.5, Artificial Lighting, an explanation box has been added that lists the ways to comply with the code & how to calculate lamp power density vs. illumination power density. Additionally, artificial lighting outside a building doesn't need to comply with the maximum power density requirements – they just have to be on sensors or efficient lights.
In section 3.12.5.6, Water heater in a hot water supply system, wood-fired thermo-siphon or direct-fired water heaters are allowed Australia-wide, assuming they comply with the relevant standards. This replaces the previous exemptions for just South Australia & Tasmania.

In summary, a couple of areas have been tightened and some vague areas have been clarified.

If you are interested in a Deemed-To-Satisfy, Thermal Calculation, Verification Method or Reference Building assessment for your new building, contact us for a competitive fee proposal. We deal in both Residential and Commercial work throughout Australia, from tiny 1-room house extensions to entire shopping complexes.
---