Commercial Energy Efficiency Assessments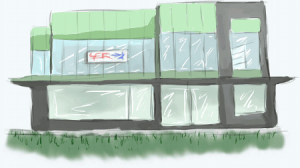 What's a Commercial Energy Rating?
A Commercial energy efficiency assessment is where we assess a building to conform to Section J of the National Construction Code. We can assess all classes of buildings such as multi-storey units, schools, shopping centres, retail/office tenancies, warehouses, airports, etc. We can perform all types of assessments such as a thermal calculation (Verification Method or JV3 assessment), or a Deemed-to-Satisfy method (a collection of individual minimum requirements to pass).
Who needs an assessment?
It's a requirement of the National Construction Code that all new buildings and extensions are energy efficient. If you're planning a new development or an extension of an existing building, then you will need a certificate that says it complies with the Code.
What's involved?
The exact process depends on the type of assessment. For a Verification Method JV3 thermal calculation assessment (also known as a Reference Building assessment), we simulate the building & compare its annual energy consumption to a complying Reference Building. A JV3 thermal assessment costs more as the assessment takes longer, but it can mean a much lower total cost of construction. For instance, it's our experience that we can find a solution for most concrete-walled commercial buildings without any wall lining or insulation. We normally use DesignBuilder for JV3 energy assessments. For more info on this assessment type, check out our article explaining Verification Method JV3 Assessments. What's so great about JV3 Assessments? Our JV3 assessments allow trading between different building elements which results in significantly lower construction costs than what a DTS-compliant building would've required. Here's just some of the savings & benefits that we've achieved for our clients.
A Deemed-to-Satisfy (DTS) assessment involves checking that every individual aspect of the building meets the minimum requirements. This type of assessment is normally cheaper for us to perform but will result in a more expensive building, as there is no option to trade between areas (for example, great insulation won't offset cheaper glass). We recommend this option if you are already planning on lining & insulating the external walls and external floors.
"We appreciate your services in the past and again in this instance you have proven to be very effective and efficient. I am happy with the report and its contents." — Douglass Construction & Engineering
What details do we need?
We'll need a copy of the architectural drawings (site plans, floor plans, elevations, sections) as well as any glazing & lighting schedules if you have them. We also need a completed Check List which contains some extra details that aren't always on the plans (like proposed insulation, wall & roof colours, floor types, etc.). If you don't know (or you want us to tell you what you need), just leave those boxes blank & we'll start with the minimum Code requirements.
How long will it take?
Our turnaround for commercial buildings is normally between one to two weeks. This depends greatly on the size & complexity of your design plus our current workload. Rush/priority jobs are available for an additional investment, contact us if you need a job done urgently before a certain deadline.
How much will it cost?
It's hard to give a one-size-fits-all estimate because commercial properties can be so varied in their design & size. We understand that each project is unique and therefore we calculate a unique quote for you by taking into consideration a number of design factors, relative to your design. We use whatever techniques we can to lower our assessment costs for you; for example if you're building a warehouse complex with identical (or even very similar) floor plans the total cost can be much lower. This makes our prices some of the most competitive in the industry, without sacrificing the quality or accuracy of our reports. Feel free to contact us for a free quote.
Why us?
We are a family run business comprised of RPEQs and NatHERS ABSA-accredited members with a fully-certified ISO9001 Quality Management System. Based in Brisbane QLD, we have over fifteen years of direct experience in thermally simulating buildings for Energy Efficiency and we're confident that we can give you the result your building deserves. We have the reputation, experience, education & systems to deliver our exceptional expertise for your project and we guarantee to always find a Building Solution which includes client-approved, lowest-cost options. We provide quality, reliable consulting advice at a competitive price.
Quality matters in the building industry.
Some organisations have been known in the past to take short-cuts, producing results the building doesn't deserve. With our extensive accreditation, quality checking & experience you can feel confident we get the right result. Our reports even have tamper-proof holographic seals so you know they're not copies!
The cost of fixing a building thanks to a junk energy report can be astronomical. Don't get caught out by a dodgy assessment performed by someone without proper credentials.
---