Check-list for Energy Efficiency Assessments
What is our Check-list & why do we need one?
First off – if you're just after a quote, all we need to see is your project's site plan, floor plans & elevations. A Check-list isn't strictly necessary (but you're welcome to send it, along with the other documentation we need for a full job, if you're planning to use us anyway to help speed things up).
Some details about your building aren't always found on the plans (like insulation specifications, external wall colours, etc). So rather than constantly ask you for more information (or make incorrect assumptions about your building) we developed this Check-list.  It lists the many additional details we need to know to accurately assess your building, all in a simple single-page form.
What we need for a full assessment:
Sometimes buildings don't have separate schedules for some things (for instance floor coverings are sometimes just noted on the floor plans directly instead of on a separate page or document) – if so that's completely fine, so long as we have the information in one form or another. You're welcome to just list the details either in an email to us or on the extra blank lines in the Check-list if you don't have them written anywhere else.
For a full Energy Efficiency Assessment we'll need the following: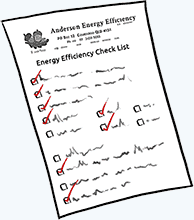 A completed Check-list
Site plan
Floor pan
Elevation views
Roof plan
Sectional views
Glazing schedule (if available)
Floor covering schedule (if available)
Lighting schedule (if available)
We can't begin the assessment without all this information, so it's very important you send it all to us as soon as you can!
Our latest Check-list is available as a PDF form. Download our check-list, fill out the appropriate details (remember to save it when you're done) & email it to us along with the other documentation mentioned above. You can find our details on our Contact Us page. The current version of our Check-list is version 1505.
Compatibility Notes: While we work really hard to make sure our Check-list PDF form works on as many Operating Systems & Software Packages as we can, there's still the odd compatibility issue. In particular, we are aware that our Check-list does not work correctly with Bluebeam software. The problem is entirely an issue on their end; their software corrupts the text labels when saving the filled-out document. We have reported the issue to Bluebeam's developers, but unfortunately they have stated that they have no immediate plans to fix this bug, and there is no easy way for us to work around it on our end.
If you use Bluebeam software, we suggest you temporarily use Adobe Reader to fill out our form.
If for whatever reason our form doesn't display correctly for you, you can also try our older version as a Microsoft Word .doc, LibreOffice .odt or Adobe Reader .pdf. In that case, please contact us & let us know your Operating System & what Software you're using, so we can try to fix the current version!
Confused while trying to fill it out?
Don't worry if it looks a bit intimidating! We've created a very helpful Guide to our Energy Efficiency Check-list to explain some of the more technical parts and what information we're specifically looking for.
"Great service. The initial form to complete with a check list of all project components makes the process very simple. Clyde provides a very efficient and friendly business, and we will continue to use his services in the future." — RCQ Construction
---