About Us

We specialise in certified building energy efficiency assessments for compliance to the National Construction Code and wide-ranging energy consulting. From single-room house extensions to multi-storey skyscrapers, hotels, schools, offices, warehouses, airports, hospitals and shopping malls, we help clients achieve Code compliance at near-lowest construction cost and deliver quality compliance reports. We are highly experienced at performing all thermal assessment types according to the National Construction Code (and the Queensland Development Code if in QLD), including
Residential/House Energy Ratings ("Star Ratings" or "HERS Assessments")
, Deemed-To-Satisfy reports, Reference Building reports,
Commercial JV3 reports
and
Energy Audits
.
Based in Brisbane QLD, we are a mix of professional Engineers and staff who are certified & accredited by ABSA (No#
40121
and No#
61079
) and with Certificate IVs in NatHERS Assessments. We pride ourselves on the thoroughness of our work and we have implemented several unique, custom-made software approaches that allows us to provide energy efficiency reports at competitive rates without sacrificing quality or taking "short-cuts". We have a fully-certified
ISO9001 Quality Management System
in Energy Efficiency Consulting in place, so you can rest assured that we will provide the correct result for even the most difficult design. Whether you're looking for compliance to the NCC, have a desire to take your building a few steps further towards sustainability and improved energy efficiency, or you just want to reduce your utility bills in an existing building, we can help you find a solution.
Key Personnel
Clyde Anderson
Executive Director
PhD, Master of Engineering Science, University of Queensland
Bachelor of Engineering in Mechanical Engineering, 2A Honours, University of Queensland
Certificate IV in NatHERS Assessment
Certificate IV in Training and Assessment
Chartered Professional Engineer (CPEng)
National Engineering Register (NER)
Registered Professional Engineer, Queensland (RPEQ No. 5482)
Accredited Assessor-ABSA (40121)
Trained for Green Star Energy Assessments
Over 20 years of experience in Building Energy Efficiency
Juancho Bauyon
Operations Manager, Senior Energy Efficiency Engineer
Bachelor of Science in Mechanical Engineering, Adamson University
Certificate IV in NatHERS Assessment
Chartered Professional Engineer (CPEng)
National Engineering Register (NER)
Registered Professional Engineer, Queensland (RPEQ No. 17131)
Member-Institution of Engineers Australia
Member-Australian Institute of Refrigeration, Air-conditioning and Heating (AIRAH)
Accredited Assessor-ABSA (61079)
Sherif Zedan
Energy Efficiency Engineer
PhD, Energy Efficient Housing, Queensland University of Technology
Master of Sustainable Architectural Engineering, Politecnico di Milano University
Bachelor of Architectural Engineering, Cairo University
Member – ABSA
Meka Beecham
Energy Efficiency Engineer Cadet
Bachelor of Architectural Design, University of Queensland
Certificate IV in Small Business Management
Experience – Solar Decathlon Europe 2010 – Participant, University of Nottingham
Experience – Design & Prototype Consultant – Calx Energetics
Monty the Dog
Head of Security, Fitness & Morale Officer
A+ grade at Puppy Training School
Advanced training in cuteness
Background in networking with excellent PR skills
Receptionist assistant, greets new clients
Over 10 years experience napping under desks
Trained in wearing formal work attire
Member – Paw Club Australia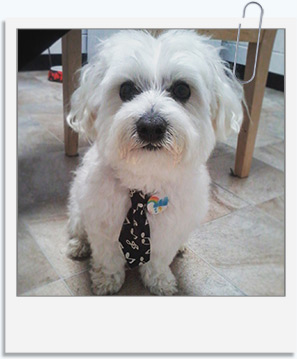 Our legacy
Clyde Anderson founded our company in 1996 under the name Clyde Anderson Pty Ltd, specialising in building energy efficiency consulting well before it was required by law. As the workload expanded, his one-man show grew into a family business that eventually overtook his home office. In 2011, with business & our reputation for quality workmanship still growing, we moved to a dedicated office in Coorparoo to accommodate more employees. As our expertise continued to be recognised by the industry & our workload continued to grow with no slowdown in sight, in 2014 we moved again to our current larger office in Mount Gravatt East. To reflect the larger role we now play in the Building Energy Efficiency industry & to properly acknowledge the skill of our exceptional employees, in 2014 we changed our name to Anderson Energy Efficiency.
Over the years we've been a key player in many areas in the industry, literally helping shape the entire industry into what it is today. We regularly submit changes to the National Construction Code that are accepted and you can see many of these changes throughout the Code. We've done consulting for CSIRO, the Australian Building Codes Board, government organisations & other key players both Australia-wide and internationally. Due to confidentiality reasons we can't point to everything we've done, but for an example we performed the consulting to set the goal posts of stringency for Deemed-To-Satisfy housing assessments in the 2010 and onwards revisions of the National Construction Code. Yes, we literally set the standard for the whole industry to follow – all houses built throughout all of Australia after 2010 that were assessed using the Deemed-to-Satisfy or Reference Building methods used our numbers!
Energy Efficiency is our passion.
We're a firm believer of leading by example. Over a decade ago, when Clyde Anderson installed Solar panels on his house it was a completely unheard-of feature – to the point that for a few years, his house was listed as one of the top 200 largest power generation facilities in all of Australia! His rainwater tank was custom installed when they were firmly seen only on rural properties, not suburban houses – compare that to today where a rainwater tank is a standard sight on many homes. Clyde Anderson owns one of the very first privately-owned Electric Cars in Queensland, which is not only recharged with 100% renewable energy but is also used to help smooth out the demand load in the electrical network, making electricity that little bit cheaper for everyone too. Naturally when it comes to our own office, the building has ample insulation and maximises its use of natural lighting to the point that only a single safety light is used during the day, and at night our lights are predominantly LEDs that are higher-efficiency than even standard LED lights. Stack ventilation & geothermal mass are exploited to completely remove the need for air-conditioning or heating throughout much of the year, all computers are hand-assembled to be highly energy efficient while very fast, any extra power not provided by our 5 kilowatt rooftop Photovoltaic Solar Panel array is 100% renewable, and all our hot water is heated using the excess power from our Solar Panels before anyone arrives at the office every morning. It's hard to get any better.
What's more, rather than just walking the walk by ourselves, we frequently help others to improve their game too! We regularly lecture at universities, give technical presentations at trade conferences & take part in community events to promote increased energy efficiency through cost-effective means. We even go so far as to offer online advice & tools including a roof insulation compression calculator, completely free for use by absolutely anyone – including our competitors(!) – because we believe that we all share the same planet and every improvement anyone makes is a step forward for all of us.
Contact Us for a competitive fee proposal for your job!